About Heart Rate Monitors
Concept2 Performance Monitors are designed to receive and display heart rate data. It is not necessary to purchase a separate heart rate monitor (listed under Optional equipment above) if you simply want to view your heart rate on the PM. The PM will display heart rate information for you—in other words, it will act like the heart rate monitor—as long as you are wearing a compatible chest belt, and, if using a Polar chest belt, you have Concept2's heart rate receiver and cable.
If you would like to track your heart rate during other activities, then you will need to purchase a monitor to receive and display your heart rate.
Concept2 sells Polar and Garmin heart rate equipment. Refer to the chart below for compatibility information.
HR system
Works with…
Additional equipment needed
Polar
PM2/PM2+, PM3 or PM4

A chest belt with transmitter
Concept2's heart rate receiver and cable

Garmin*
PM4 only

A chest belt with transmitter (included with PM4 purchases)

Notes:

Polar W.I.N.D. products are not compatible with Concept2 Performance Monitors.
*Other ANT-based heart rate systems are compatible with the PM4. Learn more
Concept2 Heart Rate Receiver and Cable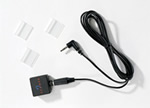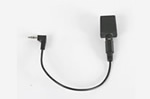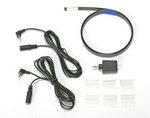 For use with the Polar heart rate system, the Concept2 heart rate receiver and cable plugs into your PM and transmits your heart rate to it. This is a Concept2 product and is sold only by Concept2.
Best option if:
You have a PM2, PM2+ or PM3 or want to use Polar equipment with a PM4
You already own a Polar (non-W.I.N.D.) chest belt
You do not plan to monitor your heart rate during other activities