2021 World Rowing Indoor Sprints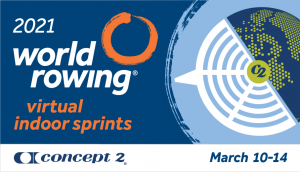 The World Rowing Virtual Indoor Sprints is a joint initiative between Concept2 and World Rowing. To take part, all you have to do is row 1000 metres on the Concept2 Indoor Rower (Model A-E Indoor Rowers only, no Dynamic or Indoor Rowers on Slides) at any point between March 10-14 and post your time to the Concept2 Online Logbook. The results are then compiled into worldwide leaderboards, so you can see how you compare with people from around the world. For many people, this is a good annual snapshot of their fitness and standing.
Last year, over 7700 people took part from 86 different countries. This year, we appreciate that things may be different for a lot of athletes with many schools, rowing clubs and gyms not able to run events this year.
How To Enter
To give people an alternative way to take part this year, we've added a series of online races, meaning there are now three different paths to entering this year's Indoor Sprints.
Enter your time in your Concept2 Online Logbook

If you're participating on your own, you can enter your time directly into the Online Logbook by 12 p.m. GMT (8 a.m. ET) Tuesday, March 16. You can submit as many eligible 1000m times as you want and your fastest will automatically be the one to count. If you haven't done this before, check out the Indoor Sprints event page for tips on setting up your monitor.

Take part in an organized event or race

Events should send their results by email to ranking@concept2.com before 12 p.m. GMT (8 a.m. ET) Tuesday, March 16. Any organization can set up an event: just set your flywheels to 1000m and cheer each other on.

All results must be submitted by the deadline, so make sure your athletes don't miss out, as late submissions cannot be accepted.

We realize that due to the pandemic, it may be hard to run an event for the Indoor Sprints this year. Please run an event only if you are able to do so safely.

Take part in an online race

For the first time you can now enter the Indoor Sprints as part of an online virtual race. Concept2's new ErgRace Online platform will be running a 1000m race on the hour, every hour throughout the course of the competition.

Anybody is welcome to take part in a race, and you could find yourself racing someone from the other side of the world. Alternatively, why not try and arrange with some friends to join a race at the same time?

After the race, your time will automatically be uploaded to the Logbook and will count for the Indoor Sprints if it's your fastest 1000m time.

For information on how to take part in an online race, see the Indoor Sprints challenge page.
After results have been confirmed by Concept2, all participants will be able to download a certificate, while the top three times in each age group will have their own medal certificate to download.
If you have any questions, please email ranking@concept2.com or check out the event page. Good luck!